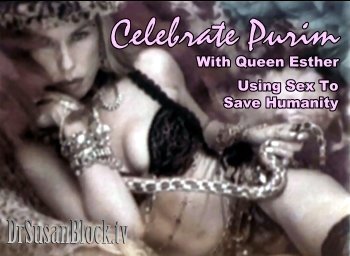 "This is not your Bubbe's Purim," warns Dr. Block
This Saturday, February 23rd, The Dr. Susan Block Institute will hold its fifth biannual Purim Bacchanal, PURIM BACCHANAL Rising, featuring the world renowned Commedia Erotica Players performing an improvisational erotic Purimspiel of the Biblical Story of Esther, the ancient Persian Jewish beauty contest winner who saves her people from genocide with her Weapons of Mass Seduction.  "In a time when power was almost always gained through brute force and merciless violence–a time much like our own–this was, and still is, a human miracle," says Dr. Block.  It is also a sex-positive, feminist, domestic drama of the royal court, which begins with the feast of a king and the disobedience of a queen, and climaxes with the obedience of a king and the feast of a queen.
Porn stars, poets, models and comics will improvise the Biblical roles as Dr. Susan Block, a former Sunday school teacher turned sexologist, narrates her acclaimed comic-erotic version of the Megillat Esther in the Womb Room, to be transformed by DrSuzy.tv producer Tasia Sutor into the mythical magical village of Shushan, the king's court, the harem, and the "gallows" (non-lethally represented by a St. Andrew's bondage cross), before a live studio audience, at Dr. Suzy's Speakeasy (aka Bonoboville) in the Soul of Downtown LA.
Guest stars will include adult film performers Tee Reel, Lya Pink, Brianna Brooks and Heidi Hollywood of Ideal Image Management, renowned Hollywood socialite Amor Hilton, fetish performer Kevin Bean and TS entertainer Victoria Veil.  All will take part in the erotic Purimschpiel (specific roles to be announced).
Purim traditions of donning masks, cranking groggers, munching hamentaschen (shaped like a vulva as well as the villain Haman's hat) and drinking "until one cannot tell the difference between the hero and the villain" (Babylonian Talmud, Megillah 7b) will be observed.  Of course, thanks to Wikileaks, we don't need to get drunk to confuse heroes with villains.  But sacred wine and other "spirits" are an integral component of this "Jewish Mardi Gras"—every important scene in the Story of Esther includes drinking, beginning with a 180-day Dionysian-style festival of Biblical proportions (and we think we overdo it when we just party all weekend).  Besides enough alcohol to float Noah's arc, the Megillat Esther features masquerade, exhibitionism, erotic teasing, sexual harassment, debauchery, feasting, dominance and submission, wild parties, political intrigue, gambling, the mysteries of the harem and the power of one wily woman's Weapons of Mass Seduction to stop an impending genocide.
This Saturday's PURIM BACCHANAL Rising is part of Eve Ensler's international campaign against rape and violence, One Billion Rising: Strike, Dance, Rise Up.
Dr. Suzy's PURIM BACCHANAL Rising will air live February 23rd, 2013, 10:30pm-Midnight PST on The Dr. Susan Block Show. Listen FREE at http://tinyurl.com/RadioSex.  Call-In Free: 1.866.289.7068.
Watch the LIVE BROADCAST & See All the Pix and Past Shows at http://drsusanblock.com/TV.html.
To join our exclusive live in-studio audience and the after-party at Dr. Suzy's Speakeasy in the Soul of Downtown LA, aka BonoboVille, call or go to http://tinyurl.com/DrSuzyRSVP.  Come one, come all or just cum.  And bring a designated driver!
Don't know Purim from purée? Don't dismay. Read Dr. Block's Purim Bloggamy:  http://bloggamy.com/purim/.
See free pix from last year's Purim Bacchanal: http://drsusanblock.com/PURIM.html
See Dr. Block's Porn 'n' Purim Bacchanal:  http://drsusanblock.com/Purim/

Coming Up Soon on DrSuzy.tv…
03/02/13 –   Body Electric with Kiwi
03/16/13 –   Squirting St. Patty's Eve with Deauxma
03/23/13 –   Sexy Sexologist Yasi Madanikia
04/20/13 –   Prostate Pleasure & Health Author Dr. Charlie Glickman
Sex toys provided by  JuxLeather, Sybian, Divine Interventions, CalExotics, ScreamingO, Stockroom and Condomania condoms. The Dr. Susan Block Show beverages of choice are Hennesey, Absinthe and Agwa di Bolivia Coca Leaf Liqueur, among the many fine libations and gourmet hors d'oeuvres featured at the always-popular Speakeasy Open Bar and Aphrodisiac Buffet. Proceeds from donations go to help save the highly endangered "make love not war" bonobos from extinction in Congo and to promote the Bonobo Way of Peace through Pleasure around the world.
The Dr. Susan Block Show is produced by The Dr. Susan Block Institute for the Erotic Arts & Sciences, an international center for sexual expression, therapy and education, based in LA.  Founded in 1991 by Susan M. Block, PhD, world-renowned Yale-educated sexologist, best-selling author and host of HBO specials, the Institute's mission is to help individuals, couples and communities enhance their sexuality and improve their lives based upon Dr. Block's philosophy of Ethical Hedonism and the Bonobo Way of Peace through Pleasure.