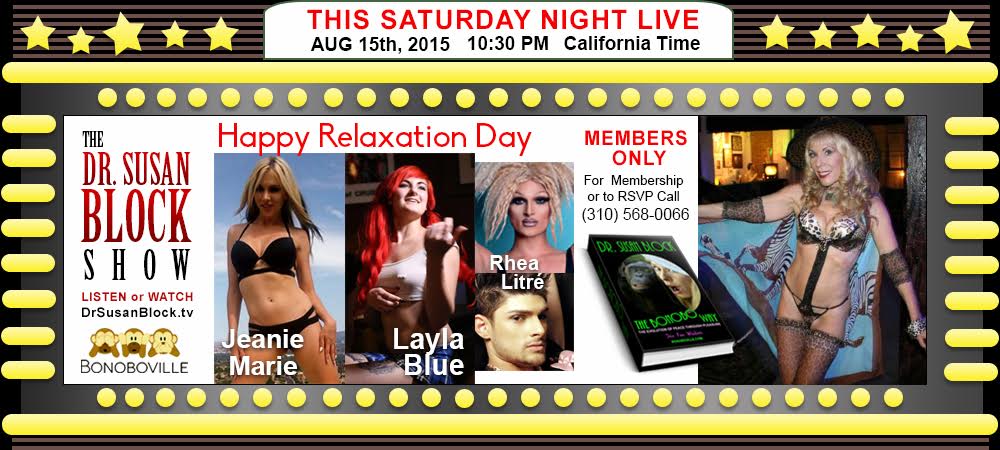 This Saturday night, August 15th, The Dr. Susan Block Show will celebrate Relaxation Day. Joining international sexologist and Bonobo Way author Dr. Susan Block live in-studio will be up and coming porn starlet Jeanie Marie, Drag Queen Extraordinaire Rhea Litré and the return of erotic fetish performer Layla Blue Phoenix, along with show producer Biz Bonobo, Institute therapists Chelsea Demoiselle, Aaliyah Corsets, Jack Nice and Del Rey,  and Snake Eve in the Bonoboville Garden of Eden.
"Relaxation Day is a very bonoboësque holiday," says Dr. Block, "since bonobos like to spend a LOT of time relaxing, which includes napping, just hanging around, stretching (bonobo yoga), cuddling, playing, having sex and having fun. Of course, people like to relax too, but bonobos actually do it! Maybe we humans would have a more peaceful, healthier, sexier, more bonoboësque culture, if we could just squeeze a little more chill time into our frenetic, stressed out lives. It's a very personal, powerful revolution: Relax! It's the Bonobo Way."
"Relaxation Celebration" will broadcast LIVE from Bonoboville on The Dr. Susan Block Show this Saturday night, August 15th, 2015, 10:30pm-Midnight PST. It can be viewed on DrSuzy.Tv or in Bonoboville.com. Click Here to RSVP to attend this show in the "Speakeasy" studio audience or call 626.461.5950. Studio doors open at 9:30 pm. Studio Members FREE. Membership Has Its Pleasures.
Call-In During the Live Broadcast: 1.866.289.7068. Tweet comments and questions @RadioSUZY1and @DrSuzy. Listen Free or Watch the live show at DrSusanBlock.Tv . Chat live in the Bonoboville.com Studio.

Having difficulties with RELAXATION? Try EROTIC HYPNOSIS with Dr. Susan Block or one of the therapists of the Institute. Erotic Hypnosis or any kind of therapy with the Institute is absolutely private and confidential
This week's live broadcast sponsored by Sybian, Agwa Cocoa Leaf Liqueur, Ron de Jeremy Rum, Dirty Tequila, Condomania, Glyde America condoms, Stockroom and JuxLeather
The Dr. Susan Block Show is produced by The Dr. Susan Block Institute for the Erotic Arts & Sciences, an international center for sexual expression, therapy and education, based in LA, founded in 1991 by Susan M. Block, PhD, world-renowned Yale-educated sexologist, best-selling author and host of HBO specials. The Institute's mission is to help individuals, couples and communities enhance their sexuality and improve their lives based upon Dr. Block's philosophy of Ethical Hedonism and The Bonobo Way of Peace through Pleasure. A portion of all proceeds goes to help save the highly endangered "make love not war" bonobos from extinction in the Congo and to promote the Bonobo Way around the world.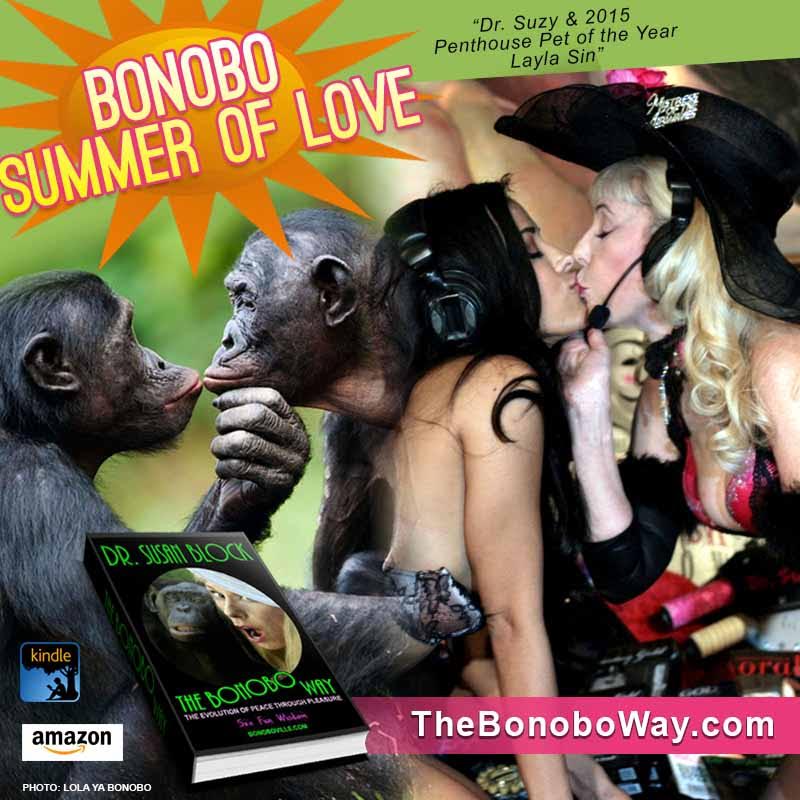 It's the Bonobo Summer of Love! CLICK HERE TO READ OUR RECENT RAVE REVIEWS & RIVETING INTERVIEWS

Make 2015 your Year of the Bonobo and get your copy of The Bonobo Way: The Evolution of Peace through Pleasure.